Longtime Brother and FoTDB Charlie (SHOUT OUT) found this in a Younkers in Wisconsin this weekend…
Couple of things here:
1) a bacon t-shirt for kids = SOLID!
b) Scratch and Sniff?! I'm guessing just the sticker as I have no idea how a scented tee would fare after the first wash.  Still, nice "value-add"…
Tres) Why is the bacon battling?  Are they warring against each other? That'd just be a sad, sad waste of fine pork product.  Are they facing off against some other breakfast food?  Oatmeal maybe?  I'm old and confused.
Aside from all that, it's just fun.
Don't have a Younkers near you?  Pick one up from their website.  It's on sale right now for just $9.99.  For boys (or girls, I won't discriminate) sizes 8-20.
Originally posted 2011-08-01 19:24:19.
Good Morning, Goooood Morrnnnnning!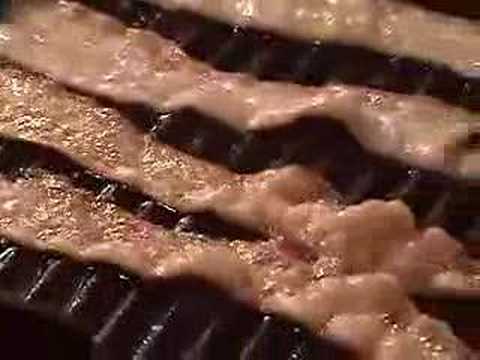 Hungry yet?  This is pretty close to bacon porn
Have a great weekend!
Originally posted 2009-06-13 08:00:13.
Sorry I went MIA this weekend.  We had a big event for work on Saturday and I was kinda busy.
Please consider this just a little taste of what is coming up for you this week my bacon lovin' friends.
via evil robot 6 on flickr.
Originally posted 2010-08-16 19:46:18.
KA-POW!
Seriously, what more needs to be said when you see a photo like this.
Who's hungry?
Bacon and Corn Griddle Cakes
Ingredients:
8 slices bacon, cut into 1/2-inch pieces
1/3 cup finely chopped sweet onion
1 cup all-purpose flour
2 tablespoons chopped fresh chives
1 teaspoon baking powder
1/2 teaspoon salt
1/8 teaspoon cayenne pepper
2/3 cup milk
1 large egg, beaten
1 tablespoon canola or vegetable oil
1 cup frozen, canned or fresh corn
1/2 cup shredded Monterey Jack cheese
warm maple syrup, for serving
Directions:
You've got to click on over to Recipe Girl for that
 That's where we found this stack of incredibleness.
Originally posted 2012-02-20 21:43:18.
As I paraphrase the great Young M.C.'s seminal hit "Bust A Move", allow me to draw your attention to yet another GREAT product featured over at Nerd Approved.
Gift boxes the feature the Bacon Tuxedo!!!  BRILLIANT!!! 
Imagine the surprise on that special persons face when they unwrap their gift and staring back at them is the Bacon Tuxedo box.  Then share in their disappointment when they open said box and inside is their real gift. 
 
Click the link to also see the "Gravy Fountain" gift box. 
Just another "Why didn't I come up with that?" idea…
Have a great Friday!
Originally posted 2009-05-22 12:28:46.
There is no need to attempt to be witty with a headline when what you are talkin' about is quite simply AWESOME!! No need to bury the lead…
This incredible invention was the brain child of eye.heart.art over on Craftster.org. Hit the link for the recipe… [Read more →]
Originally posted 2010-12-23 20:27:14.
This put a giant smile on my face today. From "Adventure Time" and then looped…
I'm sorry about this last week, between work, a charity event, election night and date night (yeah, I had one of those too) I just wasn't able to sit down and craft posts. I'll do better this next week.
Hope you are all having a great weekend!
Originally posted 2012-08-12 14:17:07.
BOO! BWAHAHAHAHAHAHAHA!!!
It's like an enclosed bacone with a jack o'lantern face…
When I first saw this, my smile grew to be as big as his!
Two more days!!!
[Picture via Steven Humour]
Originally posted 2009-10-29 09:00:05.
have never been spoken.
This is an oldie, but a goodie…plus my sister sent it to me and she really wanted to make the blog.
Hope everyone had a great day!  If not, you got a few hours left, make the most out of them
Originally posted 2011-10-04 21:21:10.