Category —
Breakfast
but I thought I ordered a SIDE of bacon?
Really? REALLY??  These barely fit on the saucer like plate that Lil' Baird might eat off of.
It is too bad you blew it with the pork because your pancakes were tatsy.  That said, as Paula Abdul once masterfully sung…"there  too many fish in the sea", so I'm not coming back here anymore restaurant that will go unnamed.
Originally posted 2010-06-23 09:33:59.
Better Half and I took Lil' to her first breakfast with Santa this morning.
Sittin' there, wondering just exactly what the heck I got myself into and then this was placed right next to me…
Looks like I was a good boy this year!  Thanks Santa…
Originally posted 2010-12-04 22:10:03.
We talked two weeks ago about one Mr. Sean Fallon from the site Nerd Approved was attempting to home brew a fine stout of oatmeal, coffee and…
BACON!
He's posted an update on the site today.  It was time to add the bacon to the brew.  I am intrigued by his method of infusion…with the bacon infused bourbon it was about the bacon fat that provided the flavor.  Here he's cooked up a whole batch, popped it into a hops bag and immersed the meat in the brew.  Hmmmmm.
And again Sean…if you felt like throwin' a bottle this way…I'd even spring for shipping
Originally posted 2010-06-11 20:34:23.
It's been awhile, I know.  We've all been a little busy and the holidays are only going to add to all the craziness.  So with that in mind I propose we all take a little time and have a relaxing and filling breakfast with friends/family, etc.
That is right, it's our sixth BACON SUNDAY!
We've had a lot of new folks stopping by since our last "event", so please allow me a minute to explain just what BACON SUNDAY is…
BACON SUNDAY is a day where we here at "The Daily Bacon" encourage you to go enjoy a good old breakfast! It could be a get together with friends, family or even just a quiet morning at a greasy spoon with your newspaper.  I am a HUGE proponent of a great breakfast.  Some of my favorite memories are around big ole breakfasts.
So, as the name suggests, we select a Sunday and of course encourage you to have bacon with that meal.
We have people who have wanted to "attend" BACON SUNDAY, but don't dig on pork for various reasons. I have heard their cries and now proclaim that BACON SUNDAY doesn't even have to include pig…just knowing that you are willing to join in the spirit of the "event" is plenty cool with me!
MARK THOSE CALENDARS!
When: Sunday, December 27th
From: Whenever you wake up til 2 pm
Where: Your pick
With Who: Anyone you'd like to get together with.
Why the 27th? Well the big holiday celebrations are behind us and it feels like a good day to decompress and take it slow.
Facebook friends: Look for the event invitation over the next day or two.
So "join" us won't you?  May this movement continue to grow!
Originally posted 2009-12-09 16:02:51.
Good Morning, Goooood Morrnnnnning!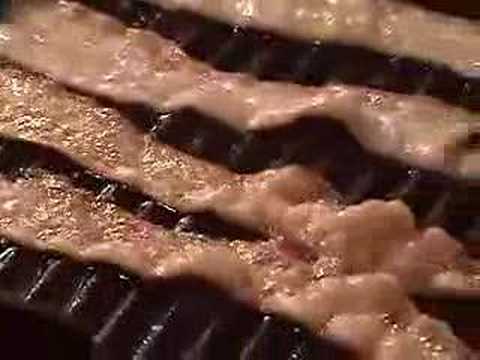 Hungry yet?  This is pretty close to bacon porn
Have a great weekend!
Originally posted 2009-06-13 08:00:13.
KA-POW!
Seriously, what more needs to be said when you see a photo like this.
Who's hungry?
Bacon and Corn Griddle Cakes
Ingredients:
8 slices bacon, cut into 1/2-inch pieces
1/3 cup finely chopped sweet onion
1 cup all-purpose flour
2 tablespoons chopped fresh chives
1 teaspoon baking powder
1/2 teaspoon salt
1/8 teaspoon cayenne pepper
2/3 cup milk
1 large egg, beaten
1 tablespoon canola or vegetable oil
1 cup frozen, canned or fresh corn
1/2 cup shredded Monterey Jack cheese
warm maple syrup, for serving
Directions:
You've got to click on over to Recipe Girl for that
 That's where we found this stack of incredibleness.
Originally posted 2012-02-20 21:43:18.
Oh to wake up to the sweet aroma of a maple and bacon baked good…
Get on that Better Half (hint, hint)
I'm even providing the recipe (after the jump) [Read more →]
Originally posted 2010-01-18 12:54:16.
Part two of our continuing search for good "over the counter" packaged bacon!  Today it's Smithfield Naturally Hickory Smoked.
This is actually the brand that we seem to eat the most at the Baird household, usually you can get it on sale at one of the grocery stores or at least for a pretty decent everyday price.
This standard 16oz. package yielded 14 good slices.  There was a 15th, but it was so paper thin that I just chucked it.
Color was real good, a little fatty but I still thought it had a fairly good meat/fat ratio.
Bacon was split onto two foil lined sheets and each cooked separately at 425 for 12 minutes.
Look at that!!  Really held it's shape well, not a lot of shrinkage.  There was a really nice aroma to the house as these things baked up.
They cooked really even (except for that one little spot on the top of slice 6) and had a nice crunch with the first bite, but didn't crumble.  There wasn't that much of a smoked taste to the meat and was actually a little sweet.
This held up real well as my breakfast side and on a sandwich later.  Smithfield, you made a good little bacon!
I give you…Eight PIGGIES EATING BACON!  Next time you are on sale, you'll be in my cart!
OINK!
Originally posted 2009-01-29 15:49:23.
So some inspiring young lads across the pond had an idea…
How can we get an entire English breakfast into a martini glass made of bacon?
The answer…behold the MEATINI
See how they came up with this mad creation at http://www.rathergood.com/meatini, if you DARE!!!  Bwahahahahahahahahahaha!
Thanks to Rebecca F., TDB's Bacon and Cultural Studies Correspondent for the heads up (SHOUT OUT).
That is all.  Happy Monday everyone.
Originally posted 2009-08-31 19:00:13.
It's been awhile, I think the world needs another BACON SUNDAY!
For all the new folks comin' by, BACON SUNDAY is a day that you set aside to truly enjoy a breakfast! It could be you getting together with friends, family or even just a quiet morning at a greasy spoon with your newspaper.
As the name suggests, I select a Sunday and I encourage you to have bacon with that meal.
We have people who have wanted to "attend" BACON SUNDAY, but don't dig on pork for various reasons. I have heard them and say that BACON SUNDAY is really morning about the act of taking time and enjoying that big breakfast than consumption of bacon. (Even though I'll probably go through a pound of pork myself
).
So mark JUNE 7, 2009 on your calendars and make plans for BACON SUNDAY IV!
You can also visit The Daily Bacon's group page on Facebook to "RSVP".
Originally posted 2009-05-08 12:19:28.