Category —
Breakfast
This weekend, while in Chicago, my group decided to have breakfast at the Original Pancake House.  Boy howdy!!!  That was some fine eatin' (which I will post about as soon as I have the photographic evidence I need to visually confirm how YUMMY it was).
One of their menu items was Bacon Pancakes…
So in that spirit, I present to you this week, THIS recipe for your own hotcakes with sweet pork meat!
Originally posted 2009-06-02 11:11:02.
Those that know me know that I do not dig on eggs…but this blog's not all about me…it's about sharing me and all things bacon with the interwebs!
I will never make this nor eat it if someone made it for me, but you'all who like eggs can appreciate this quick and easy recipe and then tell me if it's good or not.
Recipe after the jump… [Read more →]
Originally posted 2009-05-27 12:00:00.
How do you not stop in your tracks, turn immediately right and enter this restaurant??
If you can't read it, allow me to spell things out for you:
1. The Sampler – strips of bacon from farms in three different states, bacon marmalade on cheddar biscuit
2. The Entree – choice from 4 bacon favorites – blt, mac & cheese, pizza, grilled cheese
3. The Bacon Brownie – served warm with side of Jack Daniels whipped cream.
I WOULD NOT LEAVE THE RESTAURANT!
More about this dining experience from the young lady who took this picture (and ate the food) over at "Blondie and Brownie"…
Originally posted 2010-08-27 09:00:39.
This one comes from the land down under, where women glow and men plunder, can't you hear, can't you hear the thunder?  You better run to the kitchen and make these right now…
Onion & Bacon Tartlets
Ingredients: (be forewarned, measurements are metric)
1 quantity shortcrust pastry
2 tsp unsalted butter
30g speck or bacon, cut into thin strips
1 onion, thinly sliced
2 eggs
150ml milk
150ml pouring cream
1/4 tsp freshly grated nutmeg
sea salt and freshly ground black pepper
thyme sprigs (optional), to serve
Directions:
For the complete directions including how to make the shortcrust pastry, follow the link to "The West Australian"…
Recipes from the book Manu's French Bistro, by Manu Feildel and photography by Chris Chen.
Originally posted 2012-06-11 20:01:24.
Those of you who have followed this blog for a while know that I don't dig on eggs, but even I have to admit that this look pretty darn good and an incredibly easy thing to put together.  Don't have any ideas for this Sunday's family breakfast? Why not give these a try this weekend and let me know what you think!
In the words of Lil' Baird – "Bon Appétit, you may eat!"
Originally posted 2011-07-27 20:15:58.
Not just any food like "promoter pasta" but real food, good food…so of course that means bacon!
Their latest concert rider comes in at 52 pages.  Part seven features their "Field Guide To Food Coloring Book And Activity Pages".  I've pulled together two pages that may be of interest to the FoTDB, but strongly encourage you to witness the entire section in all it's glory.  Also, I'd suggest attempting the word search…it's a little more complicated than you may think and it includes a "hidden message" for all those promoters out there.
I'm printing the Dave Grohl cover especially for Lil' to color.  Think of the street cred she's going to get at daycare…
via Smoking Gun
Originally posted 2011-06-24 20:14:12.
I know that we have featured "candied" bacon before in out "Better with Bacon" segments but this is different for three reasons:
A) The recipe is in video form, 2) the video is of Jolene the Trailer Park Queen and third, the recipe includes my other love and addiction, coffee.
So watch and learn grasshoppers!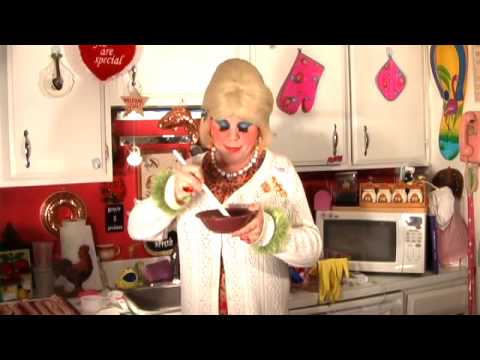 Originally posted 2010-01-29 13:32:21.
This weekend, why not whip up a tasty batch of donuts?
I mean look at those!  Can't you just picture yourself with that hot cup of coffee and plate sitting in front of you? Sun coming in through the window, paper (or iPad) on your lap…bliss!
There's not a lot of bacon in these, but if you maybe add some bacon grease to your fryin' oil…just sayin'.
Maple Bacon Glazed Donuts
Ingredients:
Donuts:
Scant 2 cups flour, divided
1/3 cup sugar
1/3 cup milk
1 egg beaten
1 tbsp canola oil
1 tbsp baking powder
1/2 tsp cinnamon
1/2 tsp salt
oil for frying
Glaze:
3/4 cup powdered sugar
1/4 cup maple syrup
3 slices cooked bacon, crumbled
Directions:
For those and a couple other great pictures, head over to D Magazine.
Photo via Travis Awalt , D Magazine
Originally posted 2012-09-05 21:11:01.
Why not give this a shot!  From Vosges Chocolate, the maker's of the Mo's Bacon Bar:
First, thanks to Rebecca F. (SHOUT OUT!), TDB's Bacon and Cultural Studies Correspondent, for the heads up about this!
Here's their description:
The newest member of the bacon + chocolate family combines the Mo's Bacon Barwith fluffy flapjacks. These buttermilk pancakes are spotted with chunks of our most popular Exotic Candy Bar, which combines applewood smoked bacon and Alder sea salt with deep milk chocolate. Treat your family or weekend guests to these unbelievable pancakes for breakfast OR dinner! Mo's Bacon Chocolate Chip Pancake Mix makes a perfect hostess gift for a weekend retreat.
How does your mouth not water???
Each batch of the Mo's Bacon Chocolate Chip Pancake Mix will yield approximately 8, 5-inch pancakes. There are two batches per container. The mix contains all the dry ingredients and Mo's Bacon Bar chips. Below is a list of other ingredients you will need to make the pancakes. You can either drop the chips into the pancakes while they are cooking or try placing the chocolate between a warm stack of cooked pancakes.

YOU WILL NEED (RECIPE ENCLOSED IN PACKAGE)
1 cup pancake mix (enclosed)
1/2 packet of Mo's Bacon Bar chocolate chips (enclosed)
1 large egg
1 1/2 cups buttermilk
2 Tbsp unsalted butter, melted
Bacon fat, lard or butter at room temperature to grease the griddle
Grade A Fancy Maple syrup
I knew I saved that bacon fat for something
I am buying some TODAY!!  $12.oo and available at the Vosges website.
Originally posted 2009-07-17 20:15:58.
Just prior to Christmas I arrived home to notice a plain brown cardboard box sitting on my front porch.  Turns out the guy who up until the 31st I called boss got me a little holiday gift. I opened it to find two pounds of gourmet bacon from Edwards of Surry, Virgina. 
Antibiotic Free, Certified Humane, Simple Basic Cure…this made my lips smack!
And it was right on time!  We had a BACON SUNDAY Celebration approaching and this would be perfect to break out on my family.  So in the freezer it went until December 27th!
Let's get to cookin' after the jump… [Read more →]
Originally posted 2010-01-06 16:00:59.